Tony Swainey and Company
...Get Connected
---
Tony Swainey and Company
...Get Connected
Phone:
Phone:

M:

803-810-5267

803-810-5267

mobile
Office:
Office:

Tony Swainey & Company

1030 Assembly Dr
Fort Mill, SC 29710
Designations:

Member, Nat'l Assoc of Realtor
Welcome to Tony Swainey & Company where our team of professionals is here with best class service to help you with buying or selling your home.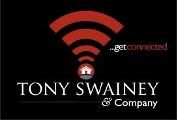 Keller Williams Agent Recognition - Jan 2014
Recommendations
"I can honestly say that I don't believe our home buying experience would have been such a pleasure if we had a realtor other than Tony. Tony's attentiveness, and the speed of his communication as well as his staff, was incredibly appreciated!!"
  -J Litvak, Client
"Tony is the best!"
  -Tasi, Colleague
"Highly recommend Tony for his professionally and can-do attitude."
  -Yvette, Colleague
---
Recent Sales
$132,000
Listing courtesy of Keller Williams Fort Mill
$189,000
Listing courtesy of Keller Williams Fort Mill
$273,000
Listing courtesy of Keller Williams Fort Mill
$155,000
Listing courtesy of Keller Williams Fort Mill